Sweet Potato Chat for Navratri Vrat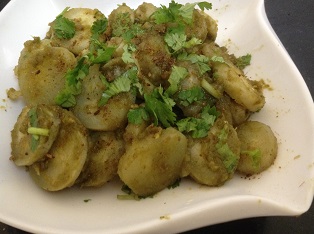 Ingredients (2-3 servings)
4-5 small sweet potato (boiled and peeled)

2 tsp tamarind chutney

2 tsp coriander chutney

¼ tsp roasted jeera powder

1 green chilli (finely chopped)

1 tbsp coriander leaves (finely chopped)

1 tsp ginger (finely chopped or grated)

½ tsp rock salt (sendha namak)
Method (How to make sweet potato chat for navratri vrat)
For tamarind chutney
Take 2 tbsp tamarind pulp, soaked in hot water. Grind it and Sieve it. Add 4 tbsp sugar and boil till thick. Let it to cool down completely and store it in fridge for 2-3 months.
Coriander chutney
1 cup coriander leaves, 1-2 green chilles, ¼ inch ginger piece, salt to taste grind to make smooth paste add 1 lemon juice and mix well.
For chat
Peel and Cut sweet potato into ¼ inch thin slices.

Add salt, half of the jeera powder, 2 tsp coriander chutney, 2 tsp tamarind chutney, green chilli, ginger and half of the coriander leaves and mix well.

Place in a serving plate sprinkle some jeera powder, lemon juice and chopped coriander leaves and serve.