English Trifle Pudding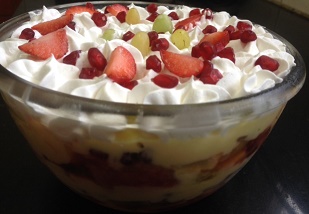 Ingredients (for 8-10 servings)
100 ml whipped cream

1 cup strawberry jelly (make jelly follow the instruction given on the jelly box) or

1 cup pineapple jelly (make jelly follow the instruction given on the jelly box)

1 ½ cup custard

½ cup chopped apple

½ cup chopped banana

½ cup pomegranate

4-5 strawberry chopped

½ cup grapes

1 kiwi peeled and chopped

1 small vanilla sponge cake (250 gram)(cut into small cubes)
For custard
500 ml milk

3 tbsp vanilla custard powder

6 tbsp sugar
Method (How to trifle pudding at home)
For custard
Mix custard powder in one cup of milk and keep aside, boil milk and add sugar, add custard paste and stir continuously till thick.

Switch off the flame and keep side for cool down and then keep in the fridge for 1 hr.
For trifle pudding
Cup cake into small cubes.

Take one medium size pudding bowl spread cake cubes, then jelly cubes.

Spread one layer of chopped fruits (half of the fruits) then spread half of the chilled custard.

Again spread one layer of cake, jelly and fruits and custard.

Now in finale layer decorate with whipped cream, garnish with chopped strawberry, pomegranate.

Keep in the fridge for 3-4 hour and served chilled.