Dry Sevai- Dry Mawa Sevai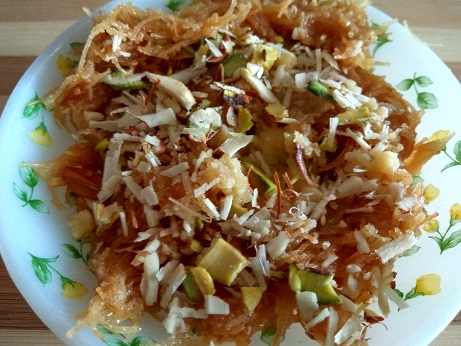 Ingredients
3 tbls ghee

1/4 tsp cardamom powder

2 cup crushed thin sevaiyan

2 tbsp cashewnut chopped

2 tbsp almonds chopped

2 tbls raisins

1 cup crumbled khoya (mawa)

1 cup sugar

3 cup water
Method (How to make dry mawa sevai at home)
Heat the ghee in a heavy wok or pan, add the cardamom powder and sauté for few seconds.

Add the vermicelli on low flame and stirring contineusly till golden brown.

Now add the chopped cashew nuts, almonds and raisins.

Now boil 3 cup water in a deep pan when water start boiling add the sugar and mix well.

Now add roasted sevai and mawa and mix well cover the lid till all the water is absorbed and the vermicelli is tender.

Remove from the fire and serve hot.