Carrot Burfi with Milk Powder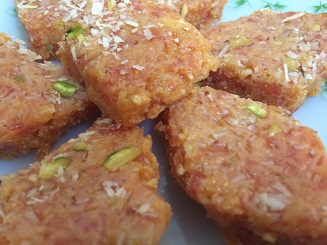 Ingredients
500 gram red carrots

200 gram milk powder

100 gram cashew

300 ml milk

300 gram sugar

1 tbsp pistachio (nicely chopped)

½ tsp cardamom powder
Method(How to make carrot burfi at home)
Wash and peel carrots and grate finely.

Mix carrot and milk cook till cook and mashed.

Add sugar and cook till all water evaporate.

Add milk powder and mix well.

Make powder of cashew nut and mix into the carrot mixture.

Add ghee and cardamom powder and cook till desire consistency like burfi.

Grease one trey or plate with ghee and pour mixture into the plate spread evenly.

Sprinkle chopped pistachios and press with spatula.

Rest for 3-4 hrs.

After 4 hrs. cut into the pieces and serve.

Can be store inthe fridge upto 7-8 days.