Bombay Halwa – Karanchi Halwa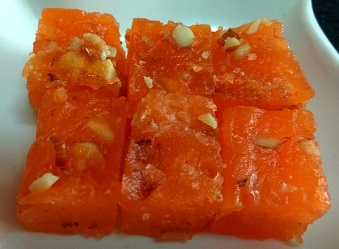 Ingredients
1 cup corn flour

2 cup sugar

¼ cup ghee

1 cup chopped dry fruits (cashew, almonds, pistachios)

Pinch of red colour

¼ tsp citric acid (lemon salt)

½ tsp cardamom powder

3 cup water
Method (How to make bombay karachi halwa at home easy method)
Take sugar in a non stick par or any heavy bottom pan and add sugar and 2 cups of water. Mix well and heat till the sugar is melted.

While sugar is melting, take cornflour in a bowl and add in 1 cup of water and mix well so no lumps are formed.

When sugar melt completely in pan, switch stove to low flame and pour the corn flour mix in and mix well.

And stirring continuously from the bottom of the pan on low flame till it is thick, glossy and jelly like. (it will take around 15-20 minutes)

Now add citric acid and 2 tbsp of ghee and keep mixing till mixture absorb all the ghee.

Add food colour and more ghee and mix well. Use all the ghee in 3-4 shifts.

Now it will get thick and non sticky.

At one stage the halwa will leave the sides of the pan. (if pan is non-stick mixture is not stick on the pan) at that point add chopped cashews, almonds, pistachios and cardamom powder and mix well.

After adding ghee cook around 12-15 minutes.

The halwa will look non sticky, it will leave the pan, it will be thick and glossy, and the ghee will ooze from the sides of the pan.

At this oint pour this into a square pan and set it in fridge for 1 to 2 hours.
Once it is set, invert it to a cutting board and cut it into slices. And serve.