South Indian style dry chickpeas (chola)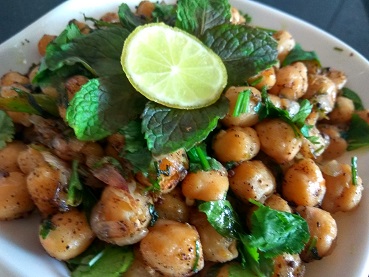 Ingredients (for 3-4 servings)
1 cup chole/chickpea (soaked in water over night or for 8 to 9 hours)

3 to 4 cups of water

¼ tsp baking soda

1 tbsp oil

1 small onion (nicely chopped)

a pinch of asofoetida

1.5 tsp ginger-garlic paste

1 - 2 green chilies, slit

½ tsp mustard seeds

½ cup coriander leaves (nicely chopped)

1 tsp pepper powder

1 tsp lemon juice or add as required

Salt as per taste

1 tbsp mint leaves (chopped)
Method (how to make the dry chickpeas)
Wash and then soak 1 cup of chickpeas with 4 cup of water overnight or for 8 to 9 hours. in the morning discard the water.

Rinse the chickpeas with fresh water, then add the soaked chickpeas with 4 cups of water in the pressure cooker.

Add salt and pressure cook the chickpeas for 2whistles and 10 minutes on low flames, or till they are cooked completely (the chana should be cooked well and should be soft when you mash it). Drain the water and keep chickpeas aside.

Heat oil in a pan, add mustard seeds and sliced onions and saute the onions until they become translucent.

Add ginger-garlic paste, asafoetida and add slit green chillies, saute on low flame for a minute, till the raw smell of the paste disappears.

Add half of chopped coriander leaves, and black pepper powder and salt as required, stir well.

Now add the boiled chickpeas, mix well.

Add lemon juice and mix well, cover with a lid and cook on simmer for 2 to 3 mins.

Remove the lid and switch off the gas.

Garnish the chole with remaining chopped coriander leaves and mint leaves.

Serve dry chickpeas with paratha or as evening snacks or as a side dish with pulao or biryani.