Sooji Appe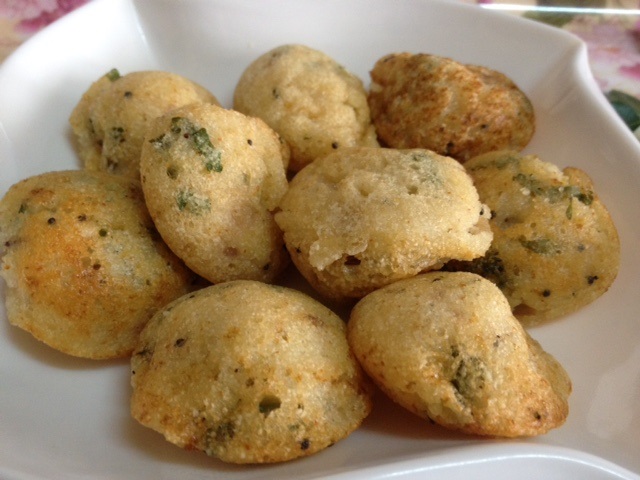 Ingredients (for 3-4 servings)
½ cup onion (finely chopped)

1 tbsp coriander leaves (finely chopped)
Method (How to make sooji appe)
Add curd and water in a big bowl and mix together.

Add sooji and mix well keep aside for 10-15 mins.

Heat oil in a frying pan add 1 tsp oil, add cumin and mustard seed, add curry leaves and fry for few seconds.

Add chopped onion and green chillies, fry till onion turn light pink colour.

Switch off and flame add chopped coriander leaves.

Add this mixture into the sooji mixture and mix well.

Allow this mixture to stand for 10-15 minutes. add more water if required (it should be similar to consistency of idli batter).

Add eno fruit salt to the mixture and mix gently.

Heat the Non stick Appam mould on medium flame.

Sprinkle oil to all cavity of mould.

Now add one tablespoon of batter in eachmould. Coverthe mould with a lid & cook for 2-3 minutes(till it becomes golden brown)

Now with the help of a spoon/fork change the position of appe upsidedown. Cookfrom other side minutes.

Remove the all appe and repeat the same procedure for the remaining batter.

Serve hot with Coriander chutney, coconut chutney or Tomato ketchup.