Raw Jack Fruit Pakoda – Kathal Ke Pakode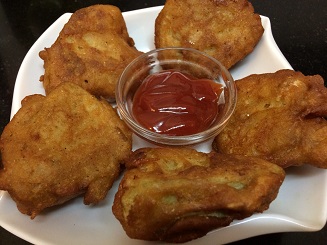 Ingredients
½ kg Raw jackfruit (cut into 2 inches pieces)

½ cup rice (soaked in water for 3-4 hrs)

1 tbsp chana dal (soaked in water for 3-4 hrs)

5-6 garlic cloves

2-3 green chillies

1 tsp coriander powder

1 tsp garam masala

½ tsp red chilli powder

A pinch of asafoetida

Salt as per taste

Oil for deep frying

Sauce or green chutney for serving
Method (How to make raw jack fruit pakoda or kathal pakoda at home)
First apply oil on your hand and peel the jacfruit and cut into 2 inch piece of jackfruit.

Grease some oil on the pan add some water and salt and add jackfruit pieces and boil till soft.

Drain the water and allow it to cool down slightly.

Make smooth paste of soaked rice and dal with green chillies and garlic cloves.

Add all spices and salt into the paste and mix well.

Now heat oil in the wok on medium flame.

Dip one piece of jackfruit into the rice paste and put into the oil put 4-5 pieces in the oil and fry on medium flame till light brown and crispy from the all side.

Serve hot with green chutney or with tomato sauce.