Potato Wedges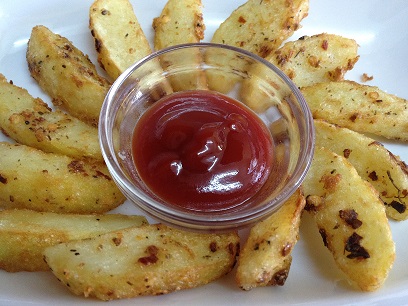 Ingredients
3-4 long size Potatoes

2 tbsp Corn Flour

1 tbsp Italian herbs or oregano

1 tbsp Red chilli Flakes

½ tsp pepper powder

Oil for frying

Salt to taste
Method (How to make potato wedges at home)
Wash and peel potatoes. Slice the potatoes into half lengthwise. Again cut them into 3 or 4 pieces lengthwise.

Boil water in a saucepan and when water starts boiling add potatoes and salt to the pan and cook for about 2-3 minutes or till potatoes are 3/4th done.

Drain excess water using a strainer and keep it aside to cool down on room temperature.

Take 2tbsp corn flour, red chilli flacks and Italian herbs in a mixing bowl and mix well.

Add salt and pepper to taste, mix all this together so that the spices get mixed evenly.

Put slices of potatoes into the corn-flour mixture and coat it all over the slices. Gently toss the potato in the mixture to get the spices coated all over the potato slices.

Now keep it in a freezer for 30 mins.

Heat oil in a pan or wok.

Slide in a few slices of potatoes into the hot oil. Fry till they are golden brown and crispy.

Remove them from oil and drain them on paper towels to remove excess oil.

Serve hot with tomato ketchup.