Honey Chilli Potatoes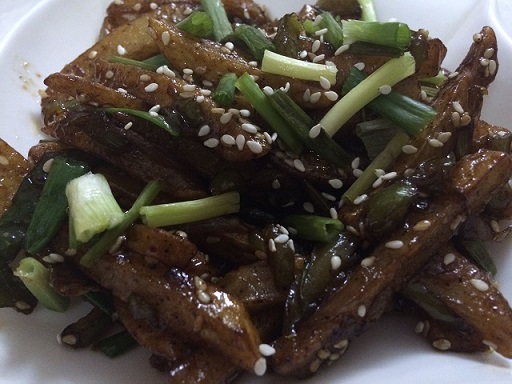 Ingredients (for 2 servings)
2 long size Potato

1 medium size Capsicum (cut in small cubes)

2 tbsp (chopped) Spring onion

2 tbsp Corn flour

2 tbsp Maida

2 tsp Sesame seeds

1 tsp Red chilli powder

2 Green chilli (slit length wise)

2 tsp Honey

½ tsp Pepper powder

1 tsp Garlic (chopped)

1 tsp Soya sauce

1 tsp Tomato sauce

1 tbsp oil

Oil for deep frying

Salt to taste
{loadpositon debug}
Method (How to make restaurant style honey chilli potatoes)
Cut the potatoes into lengthwise like french-fries. Do not cut very thin.

Put them into water to avoid black coloration.

Heat water in a deep pan and add potatoes fingers, boil till half cooked the potato.

Drain the water and spread potato in the try or any wide plate to cool down slightly.

Mix red chili powder, maida, cornflour and salt together in a wide plate.

Mix half boil the cooled potatoes in the powder mixture and mix well to coat powder all over the potatoes.

Heat the oil in a pan and slowly put the potatoes in oil. Do not crowd the pan, add in batches. Ensure that the potatoes do not stick to each other while frying. Put the potatoes one by one.

Fry till golden brown from all sides and drain the extra oil in the kitchen towel.

Heat 1 tbsp oil in a non-stick or any pan and add the chopped garlic and the spring onion whites.

When they turn slightly golden brown, add the capsicum and saute for a minute.

Add the slit green chillies and cook for a minute. Add the soya sauce, pepper powder and tomato sauce.

Now add the honey, and deep fried potatoes.

Gently toss it well and cook in a high flame to a minute.

Cooking in high flame gives crunchiness to the potato.

Garnish with sesame seeds and spring onion greens.

Serve hot honey chilli potatoes as party starters.