French Fries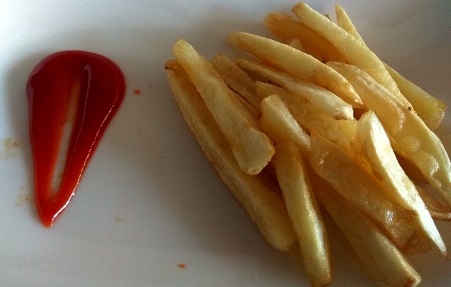 Ingredients
3-4 long size potato

oil for deep-frying

salt to taste
Method (How to make crispy French fries at home)
Peel and cut potato lengthwise as finger chips and put on the water for 5-10 mintes. Wash in running water and keep aside.

Boil water in a deep bowl when water start boiling add salt and potato finger and boil till water start boiling again.

Switch off the flame and keep it for 5 minutes. Drain and keep inside the fridge for 30 minutes.

Heat oil in a deep kadhai, add the potato fingers and deep-fry till they turn light golden in colour from all the sides.

Drain on an absorbent paper, fry all potato finger.

Heat oil again and put fried potato finger on hot oil in high flame till crispy and golden colour.

Drain on an absorbent paper, sprinkle salt over it and toss gently.

Serve immediately with tomato sauce.