Bedmi Puri (Bedhai)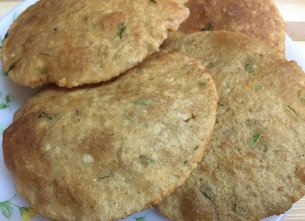 Ingredients(for 2-3 servings)
1/4 cup skinless urad dal

1 ½ cup whole wheat flour

1 tbsp fennel seed powder (crushed)

1 tbsp coriander powder

1/8 tsp asafoetida

1/4 tsp dry ginger powder (sonth)

1/2 tsp red chili powder

Salt as per taste

½ cup coriander leaves (nicely chopped)

2 tbsp oil

Oil to fry
Method (How to make bedmi puri at home)
Wash and soak urad dal in the water for 6-8 hour.

Drain the water and coarsely blend dal into a thick paste, using little water.

In a big bowl add wheat flour and other spices and mix well.

Add the dal paste to the flour and form into a soft dough using some water as needed.

Add one tbsp of oil over the dough and knead for one minute. Cover the dough with a damp cloth and let it sit for half an hour or more.

Apply oil on your palm and knead the dough again and divide into 12-15 equal parts. Oil palm again and roll the eight parts into smooth balls.

Oil the rolling pin and rolling surface. Roll the balls gently into 5-6 inch circles.

Heat oil in deep kadhai or pan over medium to high heat and Place the puri in the frying pan and press with a skimmer. The puri should puff up. Turn puri over and cook till golden and crispy from both sides.

Take the puri out from the oil and place them on paper towels to absorb the excess oil. Repeat the process for remaining puries.

Serve hot bedmi puri with sweet pumkin curry, or sonth ki chutney.