Red chilli and Ginger Pickle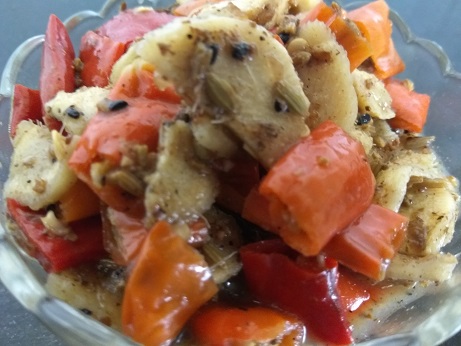 Ingredients
100 gram whole red chillies

100 gram ginger

½ cup lemon juice

1 tbsp fennel seeds

½ tsp kalaunji

½ tsp fenugreek seeds

1 tsp salt

1 tbsp mustard oil
Method (How to make instant and tasty red chilli and ginger pickle)
Cut chilli into 1 cm pieces, peel ginger and cut into thin slices.

Dry roast fennel seeds, kalaunji, and methi seeds and make coarse powder.

Mix ginger, chillies and lemon juice.

Add coarse powder, salt and oil and mix well.

Keep in air tight container and keep in the sunlight for 2-3 days.

Pickle is ready for serve.