Orange Pudding - Orange Delight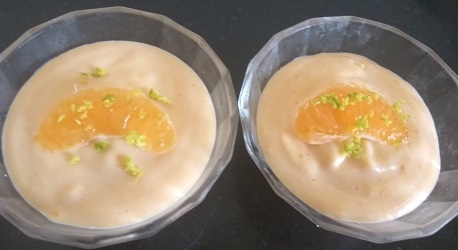 Ingredients
1 cup sweet condensed milk

3 tbsp Gelatine or agar agar powder

2 cups Fresh Cream

3 cups Orange Juice

1 Orange
{loadpositondebug}
Method (How to make Orange Pudding)
Soak gelatine or agar agar powder in ¼ cup or water and heat till dissolved

Add orange juice and mix well and keep aside.

Whip cream till light and fluffy, add condensed ad mix well.

Mix in juice and gelatine mixture and pour into a wet mould and freeze for 1-2 hrs.

Decorate with orange slice and peeled.

Unmould serve and enjoy in summer.