Stuffed Masala Mathri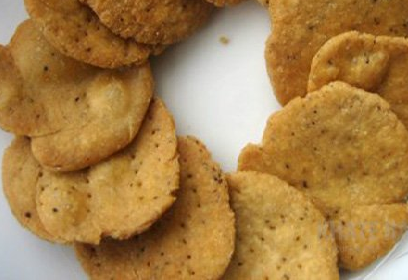 Ingredients
1 cup plain flour (maida)

2 tbsp oil or melted ghee

¼ tsp salt

Oil for frying
For filling
¼ cup gram flour

½ tsp red chilli powder

1 tsp crushed kasoori methi

2 tsp oil

½ tsp cumin powder

¼ tsp carom seed (crushed)

¼ tsp salt
Method (How to make stuffed masala mathri at home)
Mix maida, salt and melted oil mix with your hand. Add small amount of water at a time and knead dough.

Cover the kneaded dough with cloth and keep aside for 15-20 minutes.
For filling
Heat 2 tsp oil in wok add gram flour and roast over low flame, add cumin powder, carom seed, chilli powder and salt and stir continuously until golden brown, switch off the flame and keep it aside for cooling down.
For mathri
Divide the dough into 8-10 equal portion, divide filling also 8-10 equal portion.

Roll the dough into 2 inch circle, place one portion of the filling in the centre of the circle, and cover from the sides.

Fill all mathri with same manner.

Now roll stuffed dough to make around 3 inch cincle. Roll it very carefully, and ensure that filling does not spill out.

Pork the mathri with knife or fork. Repeat the same procedure to make all mathri.

Heat oil in a wok, put 3-4 mathri at a time over low flame and fry until crispy and light brown.

Drain on absorbent paper.

When cool down completely keep it in an air tight container.

And serve with tea or coffee.