Rice Flour Crispy Chakli Recipe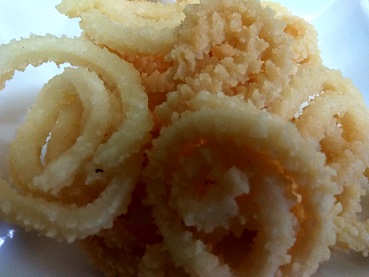 Ingredients (for 18-20 chakli)
1 cup rice flour

¼ cup gram flour

¾ cup water (boiling)

½ tsp carom seed

½ tsp red chilli powder

2 tbsp oil or butter

Salt as per taste

Oil for frying
Method (how to make crispy chakli at home)
Mix rice flour and gram flour together, add salt, chilli powder and carom seed powder and mix well.

Add oil into the flour and mix well with hand.

Now heat water till start boiling, switch off the flame and mix flour mixture into the boiling water and mix with the spoon. Cover the vessel and keep aside for 10 minutes.

Take the flour mixture out from the bowl and knead to dough form add more water if required. Cover with wet cloth and keep aside for 30 minutes.

Heat oil in deep frying pan.

Grease chakli maker with some oil, make two part with the keaded dough place one part of the dough inside the chaklimaker.

Tighten the lid andpress the chakli maker to prepare the chakli, move in rounds to get a spiral shape. Make the chaklis on butter paper or greased plate, so thats its easy to remove them.

If it is breaking while making them that mean dough does not have enough moisture, add few drops of water and knead again.

Lift the chakli gently and put into the hot oil. Put 4-5 chakli at a time and fry them till light brown and crispy on medium flame.

Drain them on the absorbent paper and when cool down completely store in airtight container.

Serve with hot masala tea or coffee.