Sweet Boondi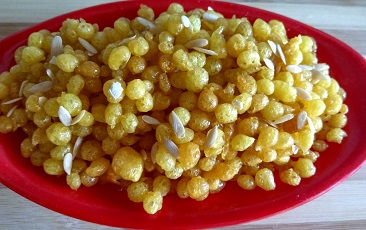 Ingredients (for 5-6 serving)
½ cup urad dal flour

½ cup gram flour

1 tsp oil

½ cup water for making batter

1 cup sugar

½ cup water for making sugar syrup

4-5 green cardamom

1 tbsp muskmelon seeds or chopped almonds

Oil for frying boondi
Method (How to make Prasad boondi at home)
Mix urad dal flour and gram flour add 1 tsp oil and add water slowly and mix batter. Mix 4-5 minutes with your hand till fluffy and light. Keep aside for 10 minutes.

Add sugar and half cup water and boil till half thread consistency or just sticky syrup, do not boil too much.

Heat oil in a deep pan and take perforated spoon (a ladle with lots of small holes). Pour 1 big spoon of batter over it, batter will drop into the oil pan in the form of small boondi. Fry the boondi till crispy and light brown. Drain out from the oil and put them in the sugar syrup. Make all boondi as same manner. And soak them in sugar syrup.

Add cardamom powder and melon seed or chopped almond and keep aside for 20-30 minutes.

Boondi is ready for serve, Serve it as dessert. Store it in a airtight container for 8-10 days.