Sweet and Sour Red Pumpkin Curry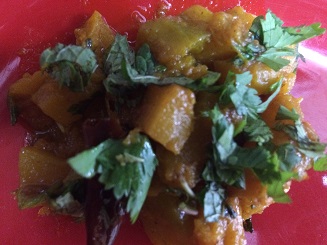 Ingredients
500 gms red pumpkin (kaddu)

1 tbsp mustard cup oil

1/8 tsp asafoetida (hing)

1 tsp crushed fenugreek seeds

1 tbsp ginger (grated)

3 to 4 whole dry red chillies

salt to taste

½ tsp turmeric powder

1 tsp chilli powder

1 tbsp coriander powder

1 tsp garam masala

1 tbsp sugar

1 tsp dry mango powder

1 tbsp chopped coriander for garnishing

2 tbsp mint leaves chopped
Method (How to make sweet and sour red pumpkin curry)
Peel, deseed and chop the pumpkin into 2 to 3 cm cubes. Keep aside.

Heat the oil in a kadahi and add the asafoetida, fenugreek.

When the seeds crackle, add the ginger and the whole red chillies and sauté till colour change.

Add the pumpkin and saute on a high flame till it looks glossy.

Add salt, turmeric, garam masala, coriander powder, chilli powder and half cup water, mix well and cook on a slow flame for 8 to 10 minutes or till it become soft and mashed.

Add the sugar and dry mango powder and half of the mint leaves, mix well and cook for 2-3 minutes.

Garnish with chopped coriander and mint leaves.

Serve hot with poori or paratha.