Paneer stuffed buns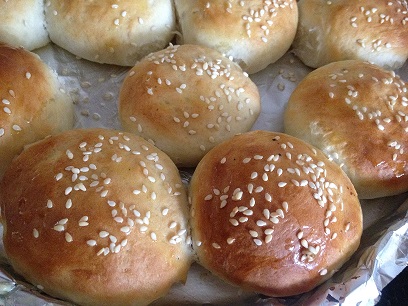 Ingredients
1 and 1/8 tsp active dry yeast

1cup water or milk (lukewarm)

1 tsp sugar

2 tsp salt

3 tbsp olive oil or butter

2 cup all purpose flour

½ cup milk for top glaze

1 tsp Sesame seed
For stuffing
1 tsp oil

¼ tsp cumin seed

1 onion (nicely chopped)

½ capsicum (nicely chopped)

100 gram paneer (mashed)

1 green chilli (chopped)

Salt as per taste

½ red chilli powder

¼ tsp garam masala
Method (How to make stuffed bun at home)
Stuffing
Heat a non stick pan add oil, add cumin seed, onion, when onion turn light brown, add, green chilli and capsicum sauté for few second and add mashed paneer and mix well.

Add salt, chilli powder, and garam masla mix well.

Switch off the flame.

Add chopped coriander leaves. Keep aside till cool down completely.
For buns
Take a big bowl and add in the luke warm water. Add in the sugar and the yeast and set aside for 5-10 minutes or until it has become frothy and milky.

Mix all purpose flour and salt.

Now add all purpose flour into the yeast mixture and start kneading. If kneading by hand, bring the dough to a flat surface of your kitchen platform and knead for a good 15-20 minutes. By using lift, spread, and throw or pull (the dough become so sticky while you start kneading but do not worry after the kneading, it will form smooth dough.

Place the dough in a lightly greased bowl and let it rise until doubled in a warm draft free place. It should take about 2 hours. It might take more or less time depending on your place.

Once the dough has almost doubled, gently deflate the dough on the kitchen counter and divide the dough into 16 pieces. Dust flour on the work surface. Shape each piece of dough into a smooth ball. Set aside.

Dust the work surface with flour. Flatten each dough ball and keep the filling in the center. Press and seal the edges by crimping with your finger tips.

Gently flatten the bun and place the bun seam side down on a parchment lined sheet pan. Cover the buns and let them rise for about half an hour.

Pre heat the oven at 200-220 D.

Just before baking, brush the buns with milk and sprinkle sesame seed over it.

Bake in a preheated oven for 16-18 minutes.

Remove the try carefully from the oven and transfer the buns onto a wire rack.

Brush with some melted butter.

Serve with tea or coffee.