Whole Wheat Flour Jeera Cookies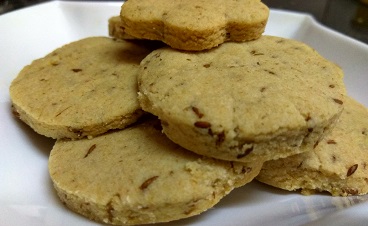 Ingredients
1 cup whole wheat flour

½ melted butter

¼ cup powdered sugar

1tbsp cumin seed {roasted and crushed}

1 tsp salt

¼ tsp baking powder

1 tbsp milk
Method (How to make whole wheat flour jeera cookies at home)
Add sugar and butter and mix with hand blender till soft.

Add flour, salt and baking powder and knead dough using your hand, add 1 tsp milk at time and knead. If dough is soft and bind stop using milk.

Sprinkle some dry flour on the rolling board and roll dough ¼ inch thick.

Cut cookies with cookie cutter or with knife. Place in the baking try.

Pre-heat the oven on 170 degree C.

And place the baking try in the oven, and bake 15 minutes or till light brown.

Remove from the oven and allow to cool down completely.

Serve with hot tea or coffee. Store in a airtight container.